AWS Solutions Architect Associate Level Course Overview
The AWS Solutions Architect - Associate Level is introduced for providing the guidance to the developers in the lifecycle of a project. This helps in deploying the hybrid system in the premises along with AWS components. A knowledge about the tools of AWS, elasticity and scalability concepts, and a familiarity with SDLC can be helpful for the aspirants.
The aspirants joining the AWS Solutions Architect Associate Level online training by Multisoft Virtual Academy will get a deep understanding about the fundamental components and designs of cloud architecture along with launching the instances under various geographical regions.
Once the candidates successfully complete the AWS Solutions Architect Associate Level online training from Multisoft Virtual Academy, they will successfully get the knowledge of the following:
Identifying the methods with the help of Amazon EC2, Amazon VPC etc.
Configuring an Amazon Machine Image (AMI)
To build and use a threat model
Security Services
Design Patterns
AWS Storage Gateway
Architectural trade-off decisions
AWS Solutions Architect Associate Level Course Content
Designing highly available, cost efficient, fault tolerant, scalable systems
Implementation/Deployment
Data Security
Troubleshooting
AWS Solutions Architect Associate Level course completion certificate
Stand out from the crowd!!
Multisoft Virtual Academy provides certificates of completion to all the aspirants on successful completion of the program.
These digital credentials will allow trained professionals to present a globally-recognized record of their learning to anyone, at any time.
Multisoft Training Completion Certificate Features :
Globally recognized certificate with the complete name of the candidate & Multisoft Virtual Academy logo
Clear specification of Course ID & Course Name
Certificate with Date of Issuance
Unique certificate ID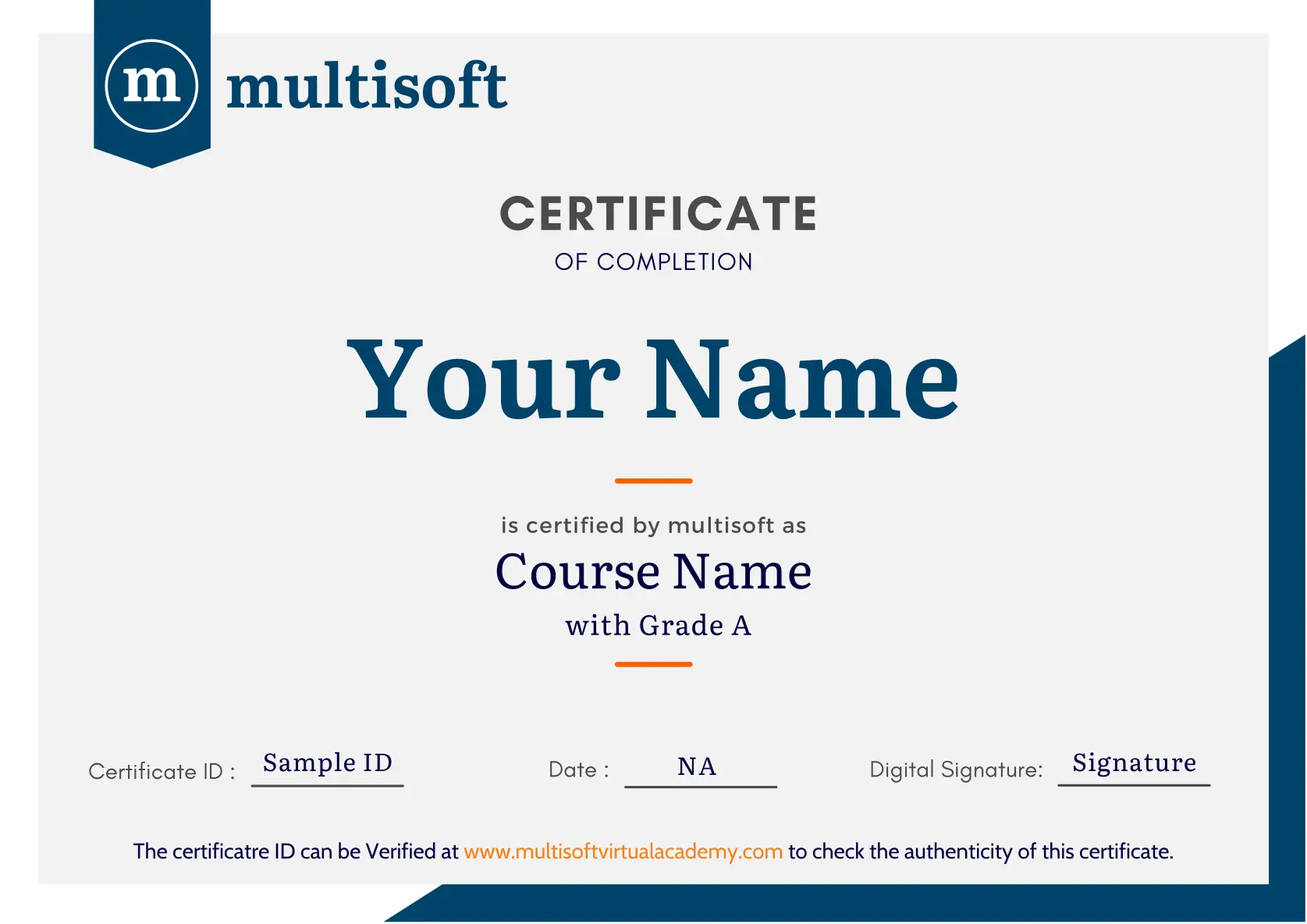 AWS Solutions Architect Associate Level FAQ's
AWS, i.e. Amazon Web Services, is a collection of remote computing services or commonly called Web Services. AWS is trusted as a scalable, highly-reliable, and low cost cloud platform that covers a wide array of businesses in 190 countries around the world and almost among all industries.
AWS caters to numerous benefits which includes providing low cost services under more flexible and open environment. These services are also agile and instantly elastic in nature along with following the complete security scenario.
The cloud options included under AWS are: • Amazon Elastic Compute Cloud (Amazon EC2) • Amazon Simple Storage Service (Amazon S3) • Amazon Virtual Private Cloud (Amazon VPC) • Amazon SimpleDB • Amazon WorkSpaces • Amazon CloudFront • Amazon Relational Database Service (Amazon RDS) • Amazon Simple Notification Service (Amazon SNS) • Amazon Simple Queue Service (Amazon SQS)
AWS is a modern cloud computing platform that has revolutionized the way organizations function. By eradicating the need of maintaining large physical servers, AWS has facilitated businesses in terms of managing applications and software on the cloud, and yet function in the most productive manner. Cloud Computing is indispensible today, and AWS is one of the most preferred vendors in this area. As an AWS expert, you open yourself to loads of great job options. AWS has over 1 million active users, and this shows the kind of scope it holds for people who are expert in working with the platform. Talking about Cloud Computing: • There are close to 3.9 million Cloud Computing jobs in the United States • The median salary of Cloud Experts is $90,950 • Giants like Expedia, Adobe, Yelp, Samsung, Dow Jones, etc. rely on AWS for their cloud-based needs
Amazon EC2 web service administers resizable computing capacity in the cloud. It eases the task of web-scale computing for Developers.
Amazon S3 is highly scalable, reliable, and low-latency data storage Web Service. Amazon S3 service acts as storage for the Internet.
Amazon Relational Database Service (Amazon RDS) is used to make easier set up, organization and measurement of a relational database in the cloud. It manages the tasks involving the time-consuming database administration. Amazon RDS also gives access to capabilities of Oracle, MySQL, SQL Server, PostgreSQL database or MariaDB.
Amazon CloudFront web service assists businesses and Web Application Developers to easily and cost-effectively administer content with low latency by giving high data transfer speeds. Amazon CloudFront is a self-service; pay-per-use offering that needs no long-term commitments and has minimum fees. With CloudFront, end-users are able to get the files delivered using a global network of prime locations.
Amazon Route 53 provides health-checking web services, domain name registration, and highly available and scalable Domain Name System (DNS). It gives a cost- effective and an extremely reliable way to Developers and businesses by translating names. Users can combine the DNS with health-checking services to route traffic to healthy endpoints.
Amazon Glacier is a low-cost storage service that avails durable, flexible, and secure storage for data backup and archival. Amazon Glacier aids the users to decrease the administrative burdens of operating and scaling storage to AWS. In such cases, users don't have to think about hardware failure detection and repair, data replication, time-consuming hardware migrations, capacity hardware provisioning, or planning
AWS CloudWatch is a monitoring service. It helps to collect and track the metrics, set alarms, and collect and monitor log files. It monitors AWS resources, such as Amazon DynamoDB tables, Amazon EC2 instances, and Amazon RDS DB instances.
Amazon CloudWatch can be accessed using AWS SDKs, command-line interface, API, and the AWS Management Console.
Amazon ElastiCache is a web service that makes it easy to deploy and run Memcached or Redis protocol-compliant server nodes in the cloud. Amazon ElastiCache helps in improving the functioning of web applications by helping in retrieval of information from a fast, managed, in-memory caching system, rather than relying completely on slower disk-based databases. With the aid of Amazon ElastiCache, users can improve load and response time based on user actions and queries.
Multisoft Virtual Academy is a 360° learning solution that is a boon to learning enthusiasts in the modern world. The academy is visualized as a large basket of technologies where all the elements of learning are put together; however leverage to define the process is in the user's hands, according to his/ her convenience. Moreover, the LMS (Learning Management System) provided by Multisoft Virtual Academy is its USP that makes it stand out among others. Some of the salient features of Multisoft's online training are: • Live Instructor-led Online Learning • Experienced and Certified Trainers • Collaborative Platform • 24/7 E-Learning • Assessments & Mock Tests • Score Analysis • Endless Choices • Corporate Solutions & onDemand Training
Read our testimonials to know why students prefer us.
With Multisoft's 24*7 self-paced learning program, you can have 24/7 access to the e-learning content once you enroll with us for a course by paying the course fee. For further details, please write to us at
info@multisoftvirtualacademy.com
.
Yes! We do provide a course completion certificate after you successfully complete the training program from Multisoft Virtual Academy.
Yes, we do have 24*7 support team that answers all your queries and doubts. Additionally, we also provide you, mock tests and practical sessions in your LMS (Learning Management System) for exam preparation.
Amazon EC2 is an easy-to-use web service that allows obtaining and configuring capacity with minimum effort. Amazon EC2 lessens the time needed to obtain and boot new server instances, and allows scaling the capacity instant. • Elastic Web-Scale Computing • Completely Controlled • Flexible Cloud Hosting Services • Reliable • Secure
Amazon S3 avails a simple web service that is used to store and retrieve any amount of data at anytime from anywhere. Developers are able to build applications under this service that can easily use Internet storage. S3 is a scalable Web Service and users only pay for what they use.
S3 provides several benefits. Few of them are: • High availability • High scalability • Reduced hosting costs (possibly - depending on your host) • High bandwidth • Ease of getting the data into a CDN (CloudFront)
The users have an entire control over a virtual networking environment, created using Amazon VPC. It enables the users to select their own IP address range, configure route tables, create subnets, and setup network gateways.
Amazon VPC is made up of a variety of objects. Few are mentioned below: • A Virtual Private Cloud (VPC): a logically isolated virtual network in the AWS cloud. • Subnet: users can place groups of isolated resources in this segment of a VPC's IP address range • Internet Gateway: the Amazon VPC side of a connection to the public Internet. • NAT Gateway: Users can access resources in a private subnet to access the internet using this highly available and managed Network Address Translation (NAT) • Hardware VPN Connection: a hardware-based VPN connection between users' Amazon VPC and datacenter, home network, or co-location facility. • Virtual Private Gateway: the Amazon VPC side of a VPN Connection. • Router: they are interconnected Subnets and direct traffic between Internet Gateways, NAT gateways, Subnets, and Virtual Private Gateways.
Amazon CloudFront provides a simple API that let the users: • Distribute content by taking lesser waiting time and higher data transfer rates using a network. • Get started without negotiating contracts and minimum commitments.
Amazon Route 53 helps the users in creating and managing public DNS records. They can also register new domain names or transfer them into an existing domain name.
Amazon Glacier helps the businesses or organization to cost effectively save data for months, years, or even for decades. With Amazon Glacier, users can now extract more information for future analysis in more economic manner.