Data Science with R Course Overview
The training offered by Multisoft Virtual Academy on Data Science with R help students acquire advanced proficiency in applying database development and software skills to support a variety of analytics applications. The candidate will be able to explore R language fundamentals, including basic syntax, variables, and types, create functions and use control flow, work with data in R.
Students will learn data collection and preparation methodologies, including identifying most relevant data sources and preparing data for analytics. After the completion of this training, the participants will gain an in-depth understanding of the best modeling and data analytics techniques.
Data Science with R Course Content
Exploratory Data Analysis and Visualization
R for Data Science
Data Mining
Data Analysis for Evidence Based Decision Making
Industry Applications of Advanced Analytics Models
Big Data Analytics with Spark
Project Management in Analytics
Information to Insight
Career Management
Data Science with R course completion certificate
Stand out from the crowd!!
Multisoft Virtual Academy provides certificates of completion to all the aspirants on successful completion of the program.
These digital credentials will allow trained professionals to present a globally-recognized record of their learning to anyone, at any time.
Multisoft Training Completion Certificate Features :
Globally recognized certificate with the complete name of the candidate & Multisoft Virtual Academy logo
Clear specification of Course ID & Course Name
Certificate with Date of Issuance
Unique certificate ID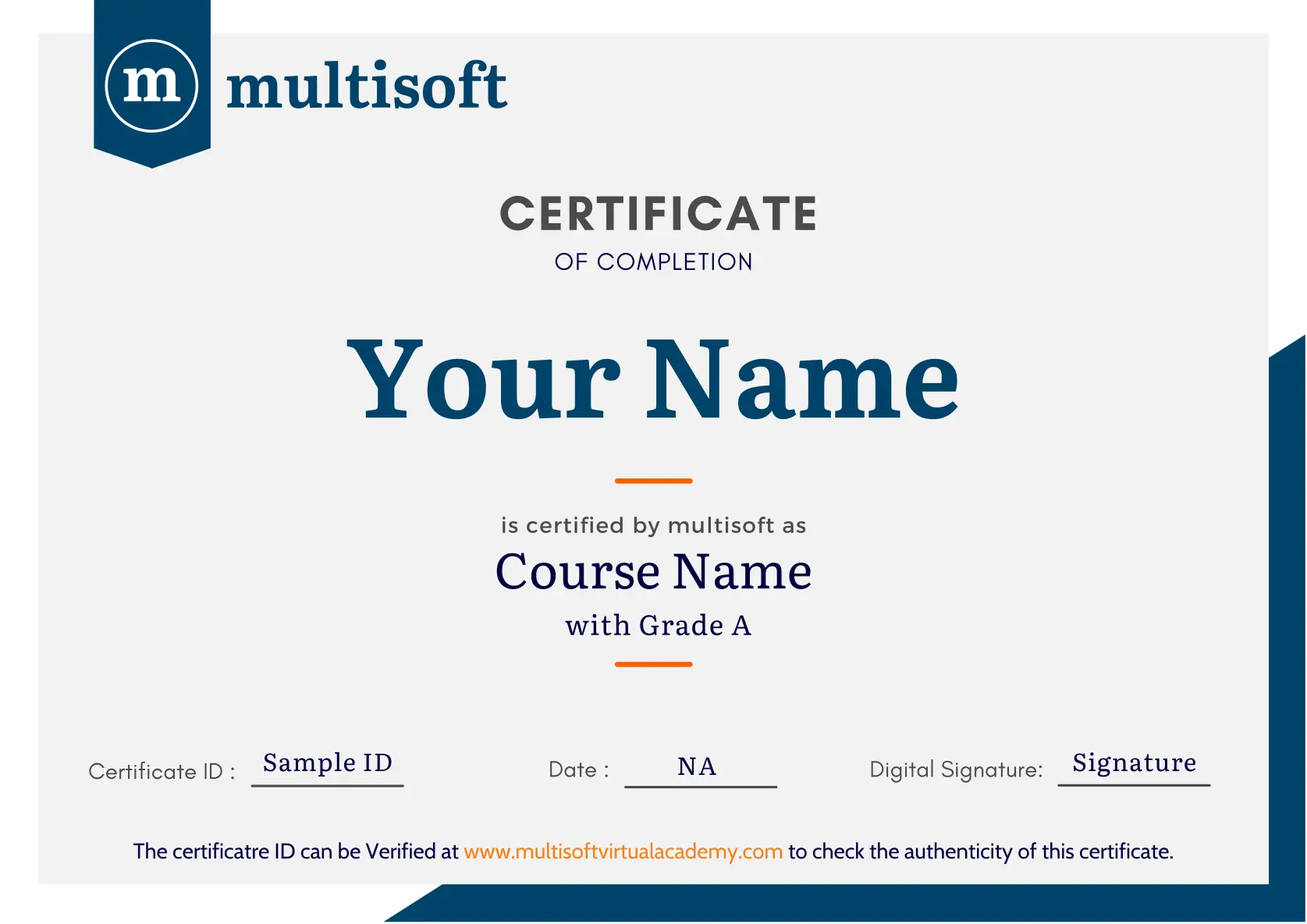 Data Science with R FAQ's
Answer: Versatility in the field of statistics makes Data Science in R important for professionals. R project includes more than 20 leading computer scientists and statisticians and is used by more than 2 million people. In-depth knowledge of Data Science with R through training allows multiple calculations with vectors, running code without a compiler, use of statistical language and supports data science.
R is used in various industries and fields for information, graphical representation and reporting of statistics. It is very helpful for data scientists, statisticians and analysts for visualization, analysis and predictive modeling. Moreover, it offers numerical accuracy and standard of quality to users and developers. Training in Data Science with R is advantageous for graduates aspiring career in analytics in data science, professionals related to fields of data and business analysis, individuals interested in field of data science and software professionals thinking of diverting their career on the path of analytics.
Online training can be accessed anytime and anywhere with the help of internet access. Training service providers such as Multisoft Virtual Academy offer latest courseware that meets international standards. The course can be pursued and customized according to learner's pace. Moreover, access to recorded video sessions, study material, and software allows revising and practicing to get a firm grip and in-depth knowledge of the course. Multisoft Virtual Academy provides assessments, mock tests and recorded sessions for online training in Data Science in R.
The timings of the course can be changed and decided as per the convenience of learner. Training is conducted on time, date and duration as told by the candidate.
32 hours of online training in Data Science with R includes topics such as Exploratory Data Analysis and Visualization, R for Data Science, Data Mining, Data Analysis for Evidence Based Decision Making, Industry Applications of Advanced Analytics Models, Big Data Analytics with Spark, Project Management in Analytics, Information to Insight, Career Management.
Multisoft Virtual Academy awards each of its learners with a training certificate after completing the course. This helps them to validate their skills and knowledge about the software.
We guarantee best quality education at the lowest price. Multisoft Virtual Academy has successfully completed training more than 2100 learners in Data Science with R. You may click here to read what our learners have to say about the training.
We offer corporate training more than 600 courses related to technical and non-technical industries. Our other courses that can be beneficial for professionals interested in or related to data analysis are Data Science online training, Data science with Python training, Big Data Analyst training and OCA 11g Database Admin Online training amongst many others.
The average salary of a data scientist is $102,000 per year. Professionals can expect a salary hike of up to 36% more than individuals with equivalent educational qualification and work experience.