SAP S 4 HANA Finance Course Overview
SAP® has been able to release its next-generation finance solution – SAP®S/4HANA 1909 in September 2019. Multisoft Virtual Academy, a SAP-certified online training house, is excited to declare that there were nearly 1500 innovations and features were added to the SAP® S/4HANA in the last half of 2019. Not only that, more than 2300 changes related to SAP® S/4HANA and 1048 user experience innovations were added in digital transformation. SAP®S/4HANA 1909 Finance includes intelligent financial processes that involve various innovative and improved methods related to financial planning & analysis.
The SAP S/4 HANA Finance 1909 Certification Online Training will teach you about a lot of things related to financial planning & analysis, such as accounting financial close, treasury management, compliance & risk, and central finance. Go for this course if you are a Project Manager, Application Consultant, SAP HANA® Consultant, Support Consultant, SAP® FICO Consultant, or Chartered Accountant. It will push your career tremendously.
SAP S 4 HANA Finance Course Content
Module 1: Finance Migration To SAP S/4HANA
Module 2: Financial Accounting In SAP S/4HANA
Module 3: Management Accounting (Controlling) In SAP S/4HANA
SAP S 4 HANA Finance Course Prerequisite
It will help you if you have associate certification level knowledge of the SAP® ERP Financials modules and basic knowledge of Financial Accounting and Management, SQL, and RDBMS. However, knowing the basic concepts of AC200 like General Ledger Accounting, Accounts Receivable, and Accounts Payable will be a surplus for you
SAP S 4 HANA Finance course completion certificate
Stand out from the crowd!!
Multisoft Virtual Academy provides certificates of completion to all the aspirants on successful completion of the program.
These digital credentials will allow trained professionals to present a globally-recognized record of their learning to anyone, at any time.
Multisoft Training Completion Certificate Features :
Globally recognized certificate with the complete name of the candidate & Multisoft Virtual Academy logo
Clear specification of Course ID & Course Name
Certificate with Date of Issuance
Unique certificate ID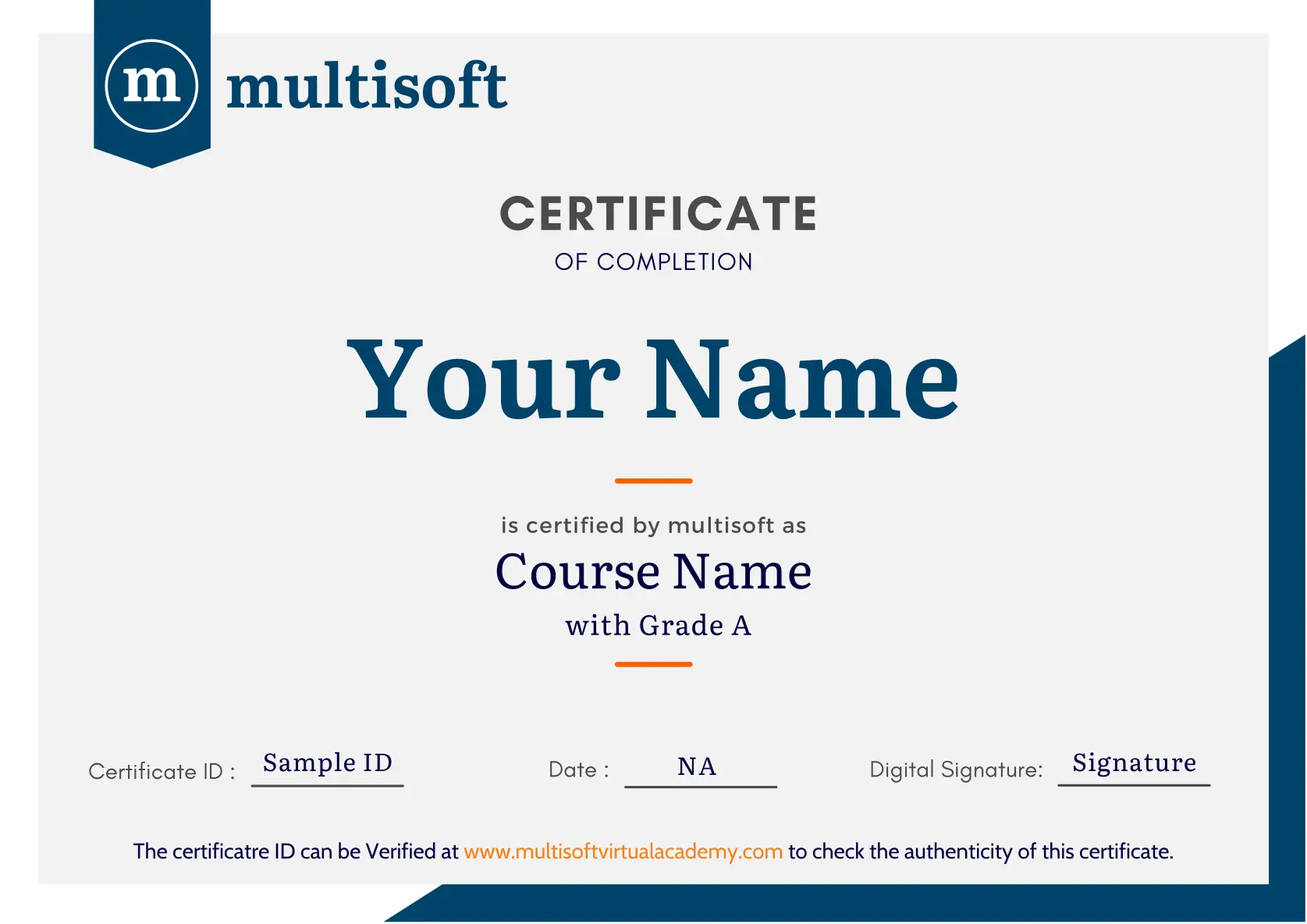 SAP S 4 HANA Finance FAQ's
The abbreviation of HANA is High Performance Analytic Appliance. SAP's development of SAP HANA was focused on a product that is ideal for performing high-speed analyses. It combines both hardware and software.
SAP HANA is a column-oriented relational database management system (RDBMS) that is designed to run on the SAP Landscape. It serves the organizations as the backend and is used as a core technology or database platform to the systems relating to the business operations of HR, Sales, Logistics and Finance. It is an in-memory database technology that acts as the core technology for many SAP and non-SAP applications.
S/4 HANA is the fourth business suite of SAP launched after SAP R/3. The company, which replaced the old SAP ECC/ERP system with SAP HANA, introduced the fourth version in February 2015. It is basically a new ERP (Enterprise Resource Planning) solution with a simple tool design, simplified data, and the ability to perform complex calculations. This is a new-generation ERP-solution that is designed to run on SAP HANA Database Architecture.
S/4 HANA is a newly introduced feature of SAP – it increases sales by enabling the company to access the workflow for sales quotations, sales orders, and credit memo requests. With the use of this new feature, the companies can display and manage sales workflows in My Inbox. SAP S/4HANA is SAP Business Suite 4 SAP HANA; it is similar to SAP R/2 to SAP R/3.
SAP's 4 HANA Finance is developed to help the organizations with financial planning and accounting, accounting and financial close, accounts payable and receivable, enterprise risk and compliance management, treasury and cash management, and many more. It offered automated processes, gives a common view of all financial and operational data, and introduces easy consumable reporting.
Eclipse IDE allows the users to add any number of ABAP systems – it is almost like an SAP logon pad. It enables the users to add a number of users to your project space, connect those, and work simultaneously.
SAP S/4HANA 1511: November 2015
SAP S/4HANA 1610: October 2016
SAP S/4HANA 1709: September 2017
SAP S/4HANA 1809: September 2018
SAP S/4HANA 1909: September 2019
Plant Maintenance (PM)
Product Life Cycle Management (PLM)
Human Capital Management (HCM)
Production Planning (PP)
Project Systems (PS)
Controlling (CO)
Sales and Distribution (SD)
Investment Management (IM)
Yes, SAP HANA express edition is available for free for development and productive use up to 32GB of RAM! To install it, you are supposed to have a minimum of 8GB RAM for the database server and 16GB for the database + XS Advanced applications.
Yes, Multisoft Virtual Academy is an authorized training center of SAP.
Multisoft Virtual Academy is committed to providing you with a training completion certificate to every candidate completing the SAP S/4 HANA Finance 1909 Certification Online. This course is designed to help the aspirants validating their skills and boosting confidence.