Microsoft Dynamics AX Distribution and Trade Course Overview
Multisoft Virtual Academy imparts training on Microsoft Dynamics AX Distribution and Trade; this is an online training for the aspirants, who desire to wants to gain acquaintance on the supply chain and distribution. This online  Microsoft Dynamics AX Distribution and Trade training insights the candidates on managing a relationship with the vendor and how to create the sales order.
Moreover, online training on Microsoft Dynamics AX Distribution and Trade conducted by the expert trainers of Multisoft Virtual Academy advise the candidates on the exam ethics and make them familiar with the functionalities about advanced trade and logistics. MS Dynamics AX Distribution and Trade online training additionally offers in-depth insight on purchasing orders, gathering information about the product, inventory reports, batch and serial numbers and sales orders. Other than this, the candidates would learn:
How to Manage scrap and measurement
How to work with BOM calculations
How to create simple and versioned BOMs
How to manage reports and other BOM functionalities
The training makes the candidates to clear Microsoft Dynamics AX Distribution and Trade exam with good percentage and after that they would be able to apply for employment in such sectors: Retail, Public Sector, Manufacturing, Wealth and Asset Management, etc.
Microsoft Dynamics AX Distribution and Trade Course Content
Overview
Over/Under Delivery and Charges
Customer and Vendor Agreements
Item Arrival Registration
Quarantine Management
Vendor Returns
Sales Quotations
Item Reservations
Sales Order Picking
Customer Returns
Commissions
Transfer Orders
Reports
Microsoft Dynamics AX Distribution and Trade course completion certificate
Stand out from the crowd!!
Multisoft Virtual Academy provides certificates of completion to all the aspirants on successful completion of the program.
These digital credentials will allow trained professionals to present a globally-recognized record of their learning to anyone, at any time.
Multisoft Training Completion Certificate Features :
Globally recognized certificate with the complete name of the candidate & Multisoft Virtual Academy logo
Clear specification of Course ID & Course Name
Certificate with Date of Issuance
Unique certificate ID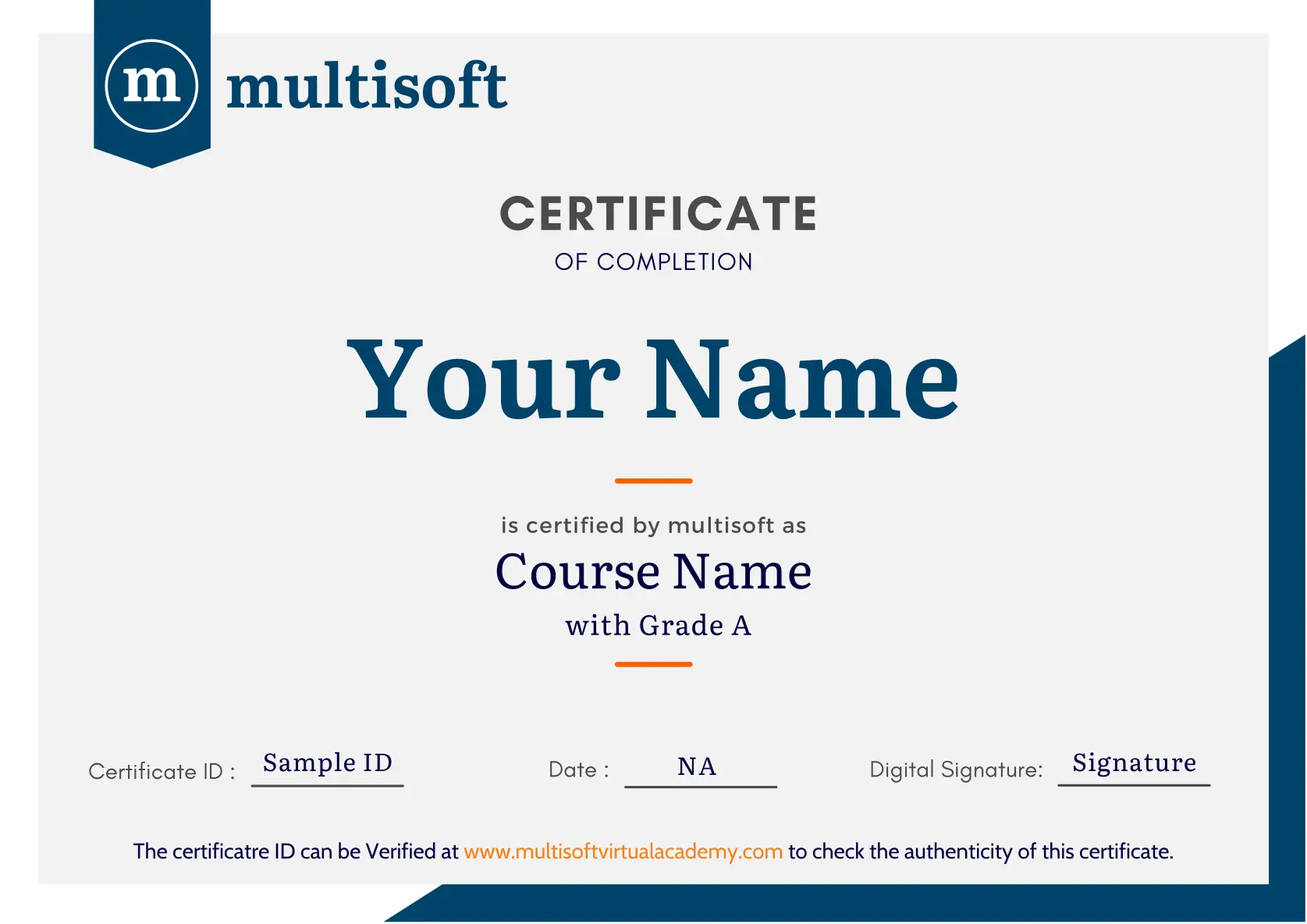 Microsoft Dynamics AX Distribution and Trade FAQ's
MS Dynamics is a suite of ERP (Enterprise Resource Planning) and CRM (Customer Relationship Management) solutions offered by Microsoft. As part of the offering, a wide range of ERP and CRM software applications are provided to help small and medium businesses in managing their day-to-day operations. MS Dynamics products are primarily used by retail, manufacturing, public sector, and financial services organizations. With the help of Microsoft's Dynamics range, enterprises are able to better manage data related to • Business Operations, including sales, supply chain, finance, employees etc. • Customer data, including purchase, order, delivery etc. MS Dynamics products enable users to exploit data in a variety of ways, such as extracting previous records, tracking order status, maintaining customer satisfaction data, and modifying existing employee database etc.
Coming from one of the world's biggest technology companies (Microsoft), MS Dynamics as a career doesn't need much justification. At its Convergence 2015 Conference in March, Microsoft revealed future plans for its ERP and CRM line of products. The company confirms to be already aggressive in this area, and integrating it with the Cloud & Enterprise makes things clearer. If you are still in doubt
MS Dynamics AX is an ERP solution by Microsoft. Using this application, organizations are able to consolidate and standardize processes while improving overall productivity within a domain or the company in its entirety. MS Dynamics AX helps to simplify compliance, as well as provides visibility across the organization.
MS Dynamics AX Trade and Logistics is an ERP application offered by Microsoft. It enables users to manage the trade and logistics operations of a business environment. As part of this course, candidates how to manage Bills of Materials (BOM), as well supply chain, and distribution and trade activities. This training will build participants' expertise in using MS Dynamics AX Trade and Logistics tool for managing product information, purchase orders, inventory reports, and batch and serial numbers.
To schedule the exam, participants must visit official Microsoft website.
The training cost mentioned on the course page excludes the exam fee. Individuals who wish to appear in the exam can schedule the exam directly from Microsoft's official website. Multisoft Virtual Academy also assists aspirants in scheduling the examination. Interested candidates may write to us at
info@multisoftvirtualacademy.com
Upon successfully clearing the exam, participants will get a Specialist certification in Microsoft Dynamics AX technology.
To obtain the actual pricing, individuals must visit official Microsoft website. This is because pricing varies by geographic location, and may also be changed from time to time.
Candidates who enroll in Dynamics AX training receive instructor-led online training of 28 hours. As part of the live program, participants are equipped with core technology concepts by an experienced trainer. Additionally, candidates get to indulge in hands-on sessions, as well as receive recorded training sessions in their LMS (learning management system) access.
Multisoft ensures that all training programs meet the candidates' needs. Our courses are designed in a comprehensive manner to ensure that by the end of the program, participants are comfortable with the concepts and functionalities involved. In case of any doubts / queries, candidates can ask for post-training support from the instructor.
Candidates can drop an e-Mail at
info@multisoftvirtualacademy.com
for queries regarding the program or any other information. Multisoft team will send a response within 24 hours.
Learners can make online payment for the choice of course they want to undergo. The fee details are mentioned on the website. For making a payment, click on ENROLL button (on the course page), which will lead to the payment gateway. Candidates also have the option of bank wire transfer. Write to us at
info@multisoftvirtualacademy.com
to get the details.